Maria's Sunday Paper: The Power of Relationships
Maria's Sunday Paper: The Power of Relationships
Love. It's that four-letter word that makes our world go 'round.
Artists sing about love. Writers write about love. Painters paint about love. Protestors take to the streets carrying placards that plead for more love. And, every once in a while, a political leader stands up and speaks about the importance of leading from a place of love. (I wish this happened more often than it does.)
I believe in love big time. I also believe that we can all get better at loving ourselves and loving each other.
Love is easy and love is hard. Even if you've been burned by it, you still want to put your heart back in the fire. It's just that good. It's just that necessary. It's just that vital to your health.
Because love is such a big topic, I talk to my kids about it a lot. I talk about what I've come to learn love is, and what it isn't. The truth is, I don't think we talk enough about the reality of everyday love. So often it presents itself to us in small moments, but we're too busy to stop and notice that it's there, much less give gratitude for it.
Real love soothes. It makes you feel safe and secure. It's not about finding someone to complete you. It's about finding someone to complement you. It's about finding people in your life who will accept you, listen to you, understand you, and love you unconditionally.
Finding someone who loves you is the ultimate brass ring in life. Finding friends and companions who love you is super important, too. I believe that we should all look to fill ourselves up with love. Find people who you love. Find work that you love. Find a purpose that you love. Find things that bring out the love in you.
I wanted to write about love this week because, like many of you, I think it's what we all need more of right now. Our country needs more love, for sure. Our neighbors need more love. And, if we are really honest with ourselves, I think we would all admit that we need more of it, too. I know I do.
So this week, think about how you can get better at love. Yes, I'm talking to you. Think about how you can be more loving, even to those who you find it hard to love. There will always be people who have wronged you, or who you have wronged yourself. There will always be people who we disagree with or who have pushed our buttons. But, I think our lives (and our peace of mind) will be better off if we find it within us to love these people, too.
I believe that we are all capable of leading from a place of love. It doesn't require an Ivy League education, a big bank account, or anything materialistic from you at all. You can be a leader of love just by the way you act, the way you talk, the way you behave, and the way you interact with your fellow human beings.
We all have a choice: we can either bring out the love in others, or we can bring out the fear and hate in them. Why not bring out the love? I mean, let's face it. When people are in love — when they feel loved — they are so much easier to deal with. They are so much more fun to be around. They are so much kinder and compassionate.
After all, love is what truly heals in the end. It is the nourishment we are all seeking. It heals broken hearts, broken families, and bitter political divides.
Loving someone is medicine for the soul. It breaks down walls, and that's what we all need to happen right now. We need leaders in our homes, in our businesses, and in our politics who are strong enough (and brave enough) to lead from a place of love. We need people who talk about loving our neighbors as we would ourselves.
The language of love speaks to far more people than hate ever will. If you stop, take a deep breath and sit still, then I think you will see that what I'm saying is true. Who would choose hate when the option of love is on the table?
So today, get your loving on. Speak that language. In the end, what truly makes a person (and a country) great is whether they understand how to love. We all know that to be true, so let's just do it.
"I've Been Thinking… Reflections, Prayers and Meditations for a Meaningful Life": Going on a trip this summer? Bring Maria's book along with you! [ORDER YOUR COPY TODAY]
WHAT OTHERS 
HAVE BEEN THINKING
The Architects of Change below will inspire you and make you think. 
DR. CHRISTIANE NORTHRUP TELLS US HOW TO AVOID 'ENERGY VAMPIRES' IN OUR RELATIONSHIPS
Architect of Change Dr. Christiane Northrup, an expert in women's health, has found that there are people out there who can literally drain us of our vital energy. She calls them "Energy Vampires" and they are particularly drawn to empathic people. In this excerpt from her latest book, "Dodging Energy Vampires," Dr. Northrup explores the "vampire-empath" relationship. [READ MORE]
RELATIONSHIP EXPERT JOANNA COLES EXPLAINS HOW TO FIND LASTING LOVE IN TODAY'S DIGITAL WORLD
Finding lasting love in today's digital age can be daunting. That's why former Marie Claire and Cosmopolitan editor Joanna Coles spent several years researching her new book, "Love Rules." In this excerpt from the book, Joanna offers guidance on the healthiest path to a true love. [READ MORE]
ANGIE JOHNSEY OFFERS ADVICE ON HOW TO FIND PEACE AND HAPPINESS IN ALL OUR RELATIONSHIPS
My dear friend and Sunday Paper columnist Angie Johnsey opines that our relationships go far beyond the romantic. In this exclusive essay, Angie offers an opportunity to view the larger perspective of relationships that can bring us back into emotional balance and harmony. [READ MORE]
ENTREPRENEUR NELY GALÁN EXPLAINS HOW TO CHANGE YOUR RELATIONSHIP WITH MONEY 
Architect of Change Nely Galan is an immigrant, self-made media mogul, and author of the book, "SELF MADE: Becoming Empowered, Self-Reliant, and Rich in Every Way." In her essay today, Nelly explains how to "divorce" yourself from a negative relationship with money so that you can become more successful and self-reliant. [READ MORE]
GIADA DE LAURENTIIS SHARES HOW HER LOVE OF FOOD HAS NURTURED HER RELATIONSHIPS
I truly enjoyed my conversation this week with my friend, chef and restaurateur Giada De Laurentiis. In her latest book "Giada's Italy: My Recipes for La Dolce Vita," Giada reveals how exploring her Italian roots has helped strengthen relationships with friends and family through food. [WATCH OUR CONVERSATION HERE]
This Week We Shine a Light on… Ginger Gentile
Who: Ginger Gentile a documentary filmmaker,
How She's Moving Humanity Forward: Ginger is putting a spotlight on people who are being "erased" from their families following divorce or separation.  [READ GINGER'S STORY HERE]
I love this poem by Gallway Kinnell. It reminds us of the beauty all around us, and that mortality is an affirmation of life.
INSPIRATION 
FOR THE WEEK AHEAD
This week, I'm featuring a quote by Therese of Lisieux that was sent to me by Sunday Paper Ambassador Diane Famiglietti. Thank you for sharing! We should all live our lives by this beautiful sentiment.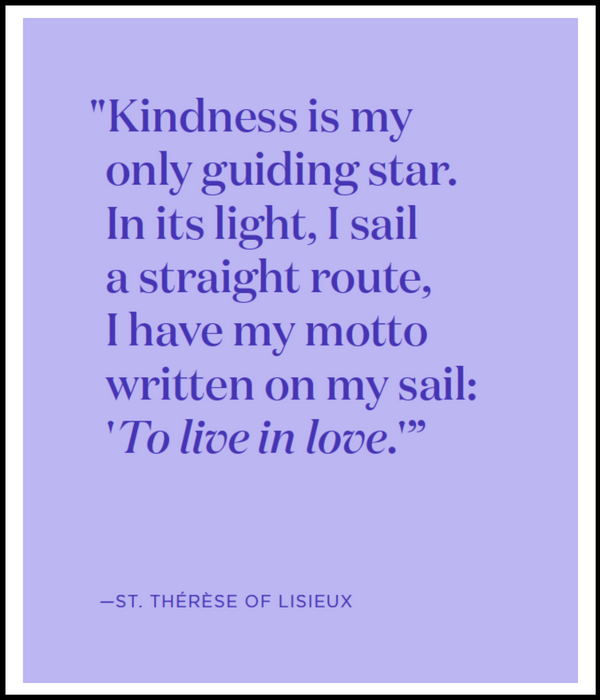 Visit the shop on MariaShriver.com to get Maria's book "I've Been Thinking," her coloring book for Alzheimer's "Color Your Mind," the Maria candle, Rivet Revolution bracelets benefiting The Women's Alzheimer's Movement, her new Maria BrainHQ program, and more!
BECOME A
SUNDAY PAPER AMBASSADOR 
Are you a passionate and purpose-driven person? Do you believe media can be both informative and inspiring? Do you have ideas and want to help shape The Sunday Paper? If so, then become a Sunday Paper ambassador!
We want you to help us expand our digital paper route by telling people who we are and what we are putting out into the world. Become a VIP Sunday Paper Ambassador today and join a group of Architects of Change who are making a difference and move humanity forward!
HEAR WHAT ONE OF OUR 
SUNDAY PAPER AMBASSADORS HAS BEEN THINKING…
"THANK YOU for giving us a wonderful platform to express our thoughts and lives … I love to ground myself each Sunday by diving into The Sunday Paper to help with the fast pace of news overload which causes anxiety and disconnect … My purpose in life (besides raising my adopted son) to help move humanity forward would be my local and national advocacy work in the war to end Alzheimer's disease." – Maria Deneau
THE SUNDAY PAPER PROUDLY SUPPORTS 

THE WOMEN'S ALZHEIMER'S MOVEMENT
The Sunday Paper elevates the voices and ideas of those who are seeking to make a difference and move humanity forward. To that end, we proudly support the work of The Women's Alzheimer's Movement, which is making a difference by fighting Alzheimer's and working to change the future for all minds. [LEARN MORE HERE] for Minds
READ MORE 
ABOUT WHAT I'VE BEEN THINKING