Pasta With Creamy White Beans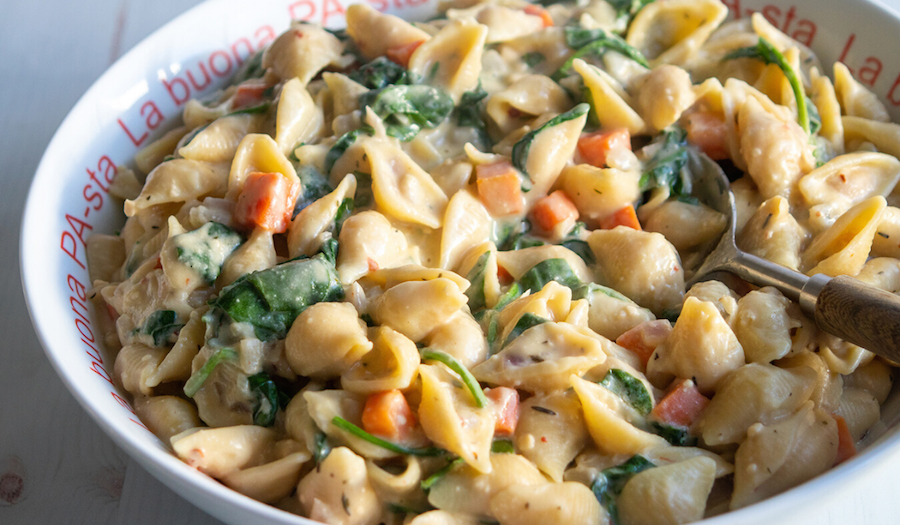 The Sunday Dinner Club: We here at The Sunday Paper believe in meaningful conversations around the table, and we want to encourage you to start your own Sunday Dinner Club. Invite friends and family members to your home, reach out virtually, and share meaningful conversations. Then report back to us and tell us about the experience.
The Ingredients of a Meaningful Dinner: 1) Set an intention. 2) Say Grace. 3) Serve healthy food. 4) Start talking. 5) Be open-minded and listen.
Conversation Starter: Discuss some of the ways others reached out to you in times of need and how it made you feel. How did your acts of care and kindness help others?
RECIPE:
Smoked cheese and creamy white beans make this pasta a super hearty meatless main – and you can sub the chicken stock for veggie stock to make it fully meatless!
SERVING SIZE:  Serves 6
INGREDIENTS:
1 1/2 teaspoons kosher salt, plus more for the pasta
1 pound shell pasta
1/4 cup olive oil
1 carrot, peeled and diced
1 small red onion, diced
1 1/2 teaspoons kosher salt
1/2 teaspoon red pepper flakes
1/4 teaspoon dried thyme
One 15-ounce can cannellini beans, drained and rinsed
1 cup low-sodium chicken broth
8 ounces smoked provolone or smoked mozzarella, grated (about 2 cups)
One 5-ounce container baby spinach, chopped
DIRECTIONS
This recipe originally appeared on Giada Entertains: Pasta Party.
Bring a large pot of water to a boil. Season well with salt. Add the pasta and cook for 3 minutes less than indicated in the package directions, about 7 minutes. Drain well reserving 1/2 cup pasta water.
Heat a large skillet over medium-high heat until hot. Add the oil, carrot and onion to the skillet. Season with 1 teaspoon salt and cook, stirring often, until fragrant and beginning to soften, about 3 minutes. Add the pepper flakes and thyme and cook another minute. Stir in the drained beans and chicken broth. Reduce the heat to medium to maintain a simmer and cook for 5 minutes, stirring occasionally. Use the back of a spoon to gently mash some of the beans. Set aside.
Add the cooked pasta to the sauce. Sprinkle the grated cheese over the pasta and toss to coat well. Stir in the remaining 1/2 teaspoon salt and add the 1/2 cup pasta water as needed to maintain a creamy, broth-like sauce. Sprinkle in the spinach and cook until wilted.
This recipe was featured in the November 3rd edition of The Sunday Paper. The Sunday Paper inspires hearts and minds to rise above the noise. To get The Sunday Paper delivered to your inbox each Sunday morning for free, click here to subscribe.